Case Studies:
PoS Camera Demonstration Unit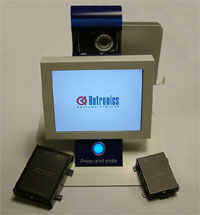 In recent years we have been involved in the design and manufacture of specialist electronics to make Point Of Sale display equipment more interactive. The range of designs encompasses straightforward video switching units to allow the difference between types of camera, typically normal and HD, to be simply demonstrated and tried by the customer in store, to the design of a complex sound source and control to demonstrate the latest noise cancelling headphones.
As a part of this POS work we have used touch screen controlled computers and specially made audio and video routing to create a large number of customised display units for a major high street store to enhance the customer experience.