About Rotronics Systems Limited
Rotronics Systems Ltd was founded in 1994 by Managing Director Bob Head. Over the years it has gone from strength to strength, developing a range of Broadcast Industry related products and providing engineering solutions to a wide variety of blue-chip, government and SME clients.
Originally conceived as a broadcast installation company ,Rotronics has steadily diversified and increased it's electronic engineering capability. Nowadays, whilst maintaining it's own product range the company also uses it's extensive hardware and software engineering capability to provide design solutions for customers covering almost the entire industrial spectrum. It is a proud boast at Rotronics "that we never know what is coming through the door next". That said, nowadays nothing much surprises the engineers here!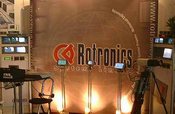 With a combination of "degree level" in-house and external engineers, employing an extensive range of CAD tools, Rotronics has the ability and the capacity to undertake a wide variety of electronic engineering projects. These range from simple obsolete component replacement tasks, through to complete product designs, employing all aspects of electronic, electrical and mechanical engineering.
Rotronics are happy to provide ongoing engineering support for it's designs and where requested, will manufacture, or supervise manufacture on behalf of it's clients.
Capabilities
Analogue, digital and RF design, electrical design, mechanical design, PCB layout and project management.
Software capability includes: embedded solutions , desktop solutions, Basic, C, C++, Borland Delphi, Visual Studio, VHDL for FPGA and Microchip MPLab
Service support & Warranty
Rotronics is proud of it's policy of continued support for all it's own products and products designed for it's customers. We are still able to repair most equipment, including some which was manufactured almost 15 years ago. Our general policy is to repair "at cost" and in most cases all we charge for are the parts used plus the cost of shipment.
WEEE Directive
Rotronics Systems Limited are registered with the Enviroment Agency WEEE (waste electrical and electronic equipment) regulations
Registration Number WEEE/JG0069TY
Please contact Environment Agency or us here at Rotronics at the end of equipment life.