Products:
Rosetta (R0361)

Description: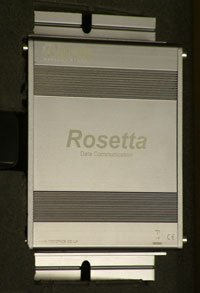 Rosetta acts as a TCP/UDP Server/
Client which provides full duplex
data transfer between the two
RS422 ports and/or 8 parallel
GPI/O.
Configuration settings are changed
via a webpage.
Diagnostics information such as
statistics on data bytes and packets
being transferred are updated
every second on a webpage.
Stylish Aluminum box
85mm x 110mm x 30mm (without
detachable mounting ears)
12v DC PSU supplied.
Applications might include:
Converting legacy RS422 systems to UDP.
i.e. matrices, mixers and VTRs
Providing remote buttons and lamps.
Providing remote cues
Providing joystick overrides

Click to download the latest product sheet