Products:
Rosetta (R0361)

Description: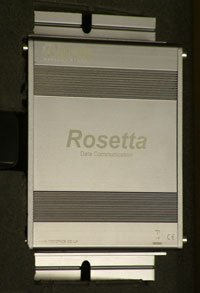 Rosetta acts as a TCP/UDP Server/
Client which provides full duplex
data transfer between the two
RS422 ports and/or 8 parallel
GPI/O.
Configuration settings are changed
via a webpage.
Diagnostics information such as
statistics on data bytes and packets
being transferred are updated
every second on a webpage.
Stylish Aluminum box
85mm x 110mm x 30mm (without
detachable mounting ears)
12v DC PSU supplied.
Applications might include:
Converting legacy RS422 systems to UDP.
i.e. matrices, mixers and VTRs
Providing remote buttons and lamps.
Providing remote cues
Providing joystick overrides

Click to download the latest product sheet

Rosetta V3

Poe 10/100Mbs ethernet, 4 opto isolated RS422 ports, USB port, 8 diagnositic leds, 8 General Purpose I/O pins.
Used as the platform for many custom projects for converting and translating Ethernet to RS422 to GPIO.
Webpage configuartion.
Supports Serial up to 756,000Mbs. Bootloader for ethernet firmware updates. Flash and protected memory and configuration options.